Wedding Photography
New Orleans Wedding Photos
New Orleans Wedding Photographers & Videographers
Alphabetical Listings Contd
Eye Wander Photo - New Orleans, Louisiana - Baton Rouge, Louisiana - Our services include engagement shoots, wedding photos and even specialties such as boudoir sessions. You can view wedding locations, wedding slide shows and galleries online.
Fine Art Exposure - Metairie, Louisiana - My experience working in traditional photography is why I approach every wedding looking for its uniqueness. This is why I say, Life isn't posed, it's lived. We find the artistic approach to capturing these that show a little bit more about what makes your wedding unique. Let me capture the moments and make your wedding day photos real memories.
GK Photography - Metairie, Louisiana -George Kuchler is an enthusiastic wedding photographer who appears in many wedding magazines and has won awards for his wedding photography. Our wedding collections begin with six hours of coverage, complimentary engagement session, preview book of all images created, an online gallery and the digital files with a print release. We specialize in providing excellent work.
Greg Randon Studios - Covington, Louisiana - Greg has been offering award winning photography for over 30 years and offers a full range of photography, including weddings, bridal portraiture and family portraiture. We specialize in custom portraiture, traditional and photo-journalistic style weddings. Visit our online gallery.
Grevy Photography - New Orleans, Louisiana - Carroll S. Grevemberg is a New Orleans wedding photographer who has been working professionally since 1970. His photographic services include weddings, special events, location portraiture, ceremony and reception. Ninety to hundred custom color photographs are taken per hour in order to fully document your special occasion.
Ibay Photography - Kenner, Louisiana - New Orleans Wedding Photographers specializing in elopements and small weddings for over ten years. We consider ourselves to be in the best position to give you sound advice and useful tips to prepare you for a romantic and memorable small wedding experience. We are New Orleans destination wedding specialists.
Imaginola Photography - New Orleans, Louisiana - Imaginola Photography provides the very best in Creative Photography, Photo Booth Rental and video Services, at very flexible and affordable rates. We offer a full range of wedding photography packages as well as photo booth rentals for your wedding day.
J. Theriot Photography/Decisive Image - New Orleans, Louisiana - J Theriot Photography, Decisive Image specializes in wedding, engagement, portrait & event photography in the Greater New Orleans area as well as destination weddings throughout the Gulf Coast region. Jay believes that a modern photojournalistic approach is the most effective way to preserve these moments.
Jessica Bachmann Photography - New Orleans, Louisiana - Jessica is a New Orleans wedding Photographer who offer portraits, weddings, special events and more. As a member of the Professional Photographer's Association,, she strives daily to recreate my work in order to make sure that no two images are ever the same. She considers it a great privilege to participate in your wedding and bridal events.
Joel Treadwell Photography - Covington, Louisiana - I am a wedding. photographer specializing in wedding commissions and bridal portraits. I work hard not only to capture your wedding day, but also to document the friends and loved ones in attendance in a timeless and classic manner. Joel tells the story of your wedding day in a natural and classic way. He puts great thought into making your wedding photos a lasting reminder of the love, joy and excitement of your wedding day experience.
John Alwert Photography & Video - New Orleans, Louisiana - We offer a professional photojournalistic approach with a current day traditional style, allowing us to capture your wedding day moments forever. We also offer professional wedding videographer services. See their wedding collections and wedding packages on their websites.
John-Michael Photography - Metairie, Louisiana - New Orleans award winning wedding photographer. John-Michael native to New Orleans, has over 20 years of experience, bringing passion and skill to his clients and the photographic industry. He's a Master Photographer. John Michael has been awarded first place 'Wedding Album' in Louisiana for 15 consecutive years by Professional Photographers of Louisiana.
Johnny Chauvin Photography - Hammond, Louisiana - Johnny is an award winning photojournalistic style wedding photographer who uses both black & white and color. He is willing to travel for your wedding and shoots more than 40 weddings every year. Johnny's work has been featured in many wedding magazines and his client list is impressive. Check out his website.
Julia Bailey Photography - New Orleans, Louisiana - Julia Bailey is a photographer who see's the world with beauty and feeling. She is an award winning, documentary style, wedding photojournalist with international credentials. Julie is award winning member of the Artistic Guild of the Wedding photojournalist Association, Professional Photographers of America and Wedding & Portrait Photographers International
Katie Pellegrin Photography - Covington, Louisiana - Katie is a north shore wedding photographer. She offers natural and contemporary portraits with unique locations and unparalleled personal service. She also specializes in weddings including destination wedding and proposal photography. We document weddings in Slidell, Baton rouge, and New Orleans area.
Kerry Pitre Photography - Metairie, Louisiana - Kerry is a professional wedding photographer offering services in the New Orleans metro area. Kerry Pitre Photography offers packages for professional wedding photography, engagements and bridal portraits. View online galleries of his unique wedding style.
Kristy May Photography - New Orleans, Louisiana - Artistic wedding photojournalism. Real moments, captured beautifully, forever. Kristy May is a New York wedding photographer who takes artistic, photojournalistic style images of weddings in New Orleans. She also does engagements, elopements and more.
Lady Portrait and Wedding Photography - New Orleans, Louisiana - Lady is a New Orleans wedding photographer who specializes in weddings, engagements, proposals, bridal portraits, social and more. Using a creative eye on my subject, I produce distinctive images that I hope will be treasured. Each wedding shoot is an opportunity to tell your story through beautiful photographs. She enjoys photographing the moments that start a lifetime.
Lee Henderson Photography - New Orleans, Louisiana - Lee Henderson is a professional documentary photographer who offers event photography and portrait photography. She offers photography for portrait, engagement, casual wedding and events. Check online to see her unique wedding style.
Lloyd Dennis Photography - New Orleans, Louisiana - Lloyd Dennis Photography offers wedding, portrait, event photography and digital video services. Lloyd Dennis offers portraits, wedding coverage, commercial and video productions. Our weddings now feature the best of two worlds The distinguished bridal photography of Lloyd & Anne Dennis and creative album designs by Primary Color Lab®, our wedding photography partners for over thirty year.
Loupe Photography and Video - Metairie, Louisiana - A photography and video studio specializing wedding videography, bridal photography and wedding photography. Loupe Photography and Video is located in Old Metairie and is serving New Orleans and the Metro area. See online galleries to see samples of our work.
Maile Lani Wedding Photojournalism - New Orleans, Louisiana - specializes in artistic, creative and vintage style fine art wedding photography. Maile Lani uses Polaroids, TTV photography, holgas, film and digital cameras to create a very offbeat photographic look for your wedding . Her work is timeless, artistic and unique. She photographs weddings on medium format film and Polaroids in addition to digital photography.
Marc Pagani Photography - New Orleans, Louisiana - Marc has been a wedding photographer since 1997. He offers portrait, creative, and unobtrusive, photojournalistic wedding photography at reasonable prices. Custom-designed, award-winning fine art wedding photography. Marc has also won many awards for his wedding photography.
Marissa Lambert Photography - Baton Rouge, Louisiana - Marissa is a fine art film photographer who specializes in wedding photography. She uses storytelling as her style to tell your wedding day story. She captures the essence of love shared by two people.
Mark Eric Photography - New Orleans, Louisiana - Mark Eric is a Louisiana wedding photographer who is centrally located and loves shooting both Louisiana weddings and Natchez weddings. There is something so rewarding seeing moments you captured in a frame , on a wall or on a coffee table in the form of a book . We want our clients to enjoy their images over and over. Mark is willing to travel for destination weddings so contact him for more info.
Matthew Foster Photography - New Orleans, Louisiana - Matthew Foster is a New Orleans-based wedding photojournalist. His images draw heavily from his interests in fine art and cutting edge fashion portraiture and provide something different each wedding that he does. His wedding photography will reflect the special day you dreamed of.
Michael Lee Wong Photography - New Orleans, Louisiana - Primarily a wedding photographer, Michael shoots weddings with a documentary style along with some regular portrait work mixed in. He loves integrating the couples style into the work, and makes sure to capture the uniqueness of each wedding. Michael also loves to work with clients that just want to do something more creative and unique.
Mike Posey Photography and Video - New Orleans, Louisiana - Mike Posey Photography and Video is a full service studio designed to meet the imaging needs of the most discriminating brides and grooms. We don't just take pictures we capture memories for your wedding event. Mike offers wedding phtography and videography.
Milestone Portrait Art & Design - Kenner, Louisiana - Melanie Langteau opened her photography studio, Milestone in 1994. She has photographed over 50,000 people in the past 20 years. She is now joined by her daughter Casey Langteau Johnson. Together they offer customized wedding portraiture photography to the New Orleans area.
Morris Productions - Slidell, Louisiana - We provide professional wedding photography and wedding videography without disturbing the emotion of the day. Preserving your wedding day memories means almost as much to us as it does to you! We offer a wide range of wedding packages to fit your budget needs.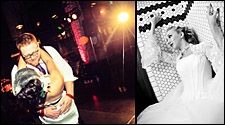 Nicole Nichols Photography
New Orleans, Louisiana
Documenting your Day in a Funky, Fun, Fine Art Way! Nicole Nichols (a New Orleans Native) has extensive experience photographing weddings. Her unique point of view will give your wedding photos that special touch. Coming from out of town for your wedding? Nicole does destination weddings. Contact Nicole today.
720-470-9849