NEW ORLEANS Tours and
LOUISIANA Tours
All New Orleans and Louisiana Tours

French Quarter Walking Tours

Louisiana Alligators

Louisiana Alligator History

Louisiana Alligator Hunting/Harvesting

Louisiana Nuisance Alligators

Louisiana Swamp Tours

Louisiana Plantations

Louisiana Plantation Tours and Weddings

Louisiana Plantation Weddings

Mississippi River Cruises and Tours

Motorcycle Tours

Movies on Louisiana Plantations

New Orleans Bicycle Tours

New Orleans Bus and Limousine Tours

New Orleans Carriage Tours

New Orleans Cemetery Tours

New Orleans Haunted, Ghost
and VooDoo Tours

New Orleans Plantations

New Orleans Riverboat Cruises/Tours

Plantation Facts

Plantation History

New Orleans Lodging
From quaint bed and breakfasts in historic French Quarter homes to some of the finest world class hotels anywhere, we have over 200 New Orleans area websites for lodging in New Orleans.
Go to New Orleans Hotels
Go to New Orleans Bed and Breakfasts
New Orleans Tours by Bus or Limo - SEE ALL
New Orleans City Tours, Bus and Motor Coach Tours and Limousine Tours
New Orleans tours by bus, motor coach or limousine include much more than just the French Quarter. After you've taken walking tours of the French Quarter which include points of interest best seen on foot such as Jackson Square, Saint Louis Cathedral and the Cabildo and Presbytere museums, consider seeing more of the city with a guided tour by bus or limousine. The most popular New Orleans tours outside of the French Quarter include tours of the New Orleans Garden District with its 19th century Victorian mansions, New Orleans cemetery tours with its raised "Cities of the Dead" and Hurricane Katrina tours which include areas of New Orleans most devastated by the hurricane and still being rebuilt.

New Orleans tours by bus, motor coach or private limousine, will take you to the most interesting sites in the city outside of the French Quarter. The tours will most often begin by taking tourists first to the New Orleans Garden District. The stately 19th century Victorian mansions begin just upriver from the New Orleans central business district and the New Orleans Warehouse District, known for its fine art galleries, restaurants and chic cafes. The New Orleans Garden District has for two hundred years been the home of New Orleans wealthiest residents. New Orleans city tours will take you by the homes of former kings and queens of Mardi Gras and other notable city residents. Recently, the New Orleans Garden District has become the home of many Hollywood and music industry celebrities.

New Orleans city tours will take you along Saint Charles Avenue, the grandest avenue in the city. The Saint Charles Avenue streetcar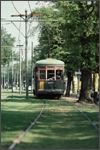 has been running since 1835 and is the oldest continuously running streetcar in America shutting down only for a brief period after Hurricane Katrina. From Saint Charles Avenue, you'll see Tulane and Loyola Universities across from Audubon Park, home to the Audubon Zoo, one of the top five zoos in the nation.

As your tour turns away from the Mississippi River and toward Lake Pontchartrain, New Orleans tours will take you past our historic cemeteries, referred to as "Cities of the Dead," where you will learn about this unique above ground burial system. New Orleans tours will take you along historic Bayou St. John which was the first route into the city from Lake Pontchartrain. As your New Orleans tour guide will point out, the location of New Orleans on the Mississippi River was chosen because it was the closest location to Bayou Saint John which allowed a back door entrance into New Orleans from the lake. Bayou Saint John was also the back door smuggling route for pirates such as Jean Lafitte who used the waterway to carry goods into the city looted from ships in the Gulf of Mexico.

As your New Orleans tour guide takes you along Bayou Saint John toward Lake Pontchartrain, you will pass New Orleans City Park, the second

largest urban park in America after New York's Central Park and home to some of the oldest and largest live oak trees in the country. As your New Orleans tour takes you along the shores of Lake Pontchartrain, you will view the longest bridge over water in the world, the Lake Pontchartrain Causeway.
Go to New Orleans City Tours

Louisiana Plantation Tours - SEE ALL
After you've taken tours of New Orleans, consider taking a Louisiana plantation tour. While there are no plantation homes still standing in the New Orleans city limits, Louisiana is home to some of the grandest plantation homes in the South. In 1861, before the Civil War, half the millionaires in the United States lived on the Mississippi River. Much of this antebellum opulence survives today as majestic architectural treasures and testimony to a bygone era in American history. Today, many Louisiana plantations have been converted to bed and breakfasts, wedding venues and restaurants.

There are many plantation tours to choose from. Some plantation tours will take tourists on a tour of several nearby plantations aboard a comfortable bus with informative guides. The tours may run from a half day to a whole day offering tourists a view of rural Louisiana along the way. Tourists may also choose their own plantations to visit in their own vehicle. Since Louisiana plantations were all built along the Mississippi River or along Louisiana's largest bayous such as Bayou Teche, it's fairly easy to go from plantation to plantation by simply following the roads along these waterways.

Most tourists are familiar with plantation homes in Louisiana and other southern states that are constructed in the familiar Greek revival style with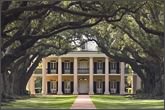 their signature massive Greek columns gracing the front façade or even surrounding the entire structure. The largest and most striking of these Greek revival plantations is Oak Alley in Vacherie, Louisiana, about an hour's drive upriver from New Orleans. Located on the Mississippi River, Oak Alley Plantation has been called the "Grande Dame of the Great River Road". The plantation home is situated in the most spectacular setting of any plantation in the South. Leading from the river to the front of the plantation home is the driveway flanked by two rows of huge live oaks creating perhaps the grandest entrance of any plantation in the South. White Oak Plantation in Baton Rouge and Madewood Plantation in Napoleonville, Louisiana are also beautiful examples of plantations built in the Greek revival style. Greenwood Plantation in Saint Francisville, Louisiana is also a fine example of Greek revival style architecture with grand Greek columns surrounding the entire plantation home.

The French built the first plantations in Louisiana. As your plantation tours guide will explain, the French in Louisiana built plantations for the production of sugar cane, not cotton. Plantation homes built by the French were most often built in the French West Indies architectural style. The plantation homes built in the French West Indies style may be one or two stories and are characterized by slender poles or columns supporting the overhanging roof and galleries and are often raised on brick piers to avoid the dampness. The plantation homes often have wings added to the main structure often several years after the original plantation home was built. Plantation tours that include the French built plantation homes will include Ormond Plantation in Destrahan, Louisiana, the closest plantation to New Orleans, Tchoupitoulas Plantation in Luling, Louisiana, Oakland Plantation in Natchitoches, Louisiana and St. Joseph Plantation in Vacherie, Louisiana.

St. Joseph Plantation is one of the few fully intact sugar cane plantations in Louisiana. In addition to the main plantation house, St. Joseph Plantation has numerous outbuildings including the original slave cabins, detached kitchen, a blacksmith's shop, a carpenter's shed and a schoolhouse. Several buildings have been moved to their present location from another part of the property, but most remain exactly where they were built.

Destrehan Plantation was established in 1787 and remains the oldest documented plantation home in the lower Mississippi River Valley. Just upriver from New Orleans in Destrahan, Louisiana, the Destrahan Plantation is an outstanding example of French West Indies architectural style. It is often included on plantation tours leaving from New Orleans.

Some Louisiana Plantations have unique architectural styles. Although the French West Indies style plantations and the Greek revival style plantations can be grouped into distinct architectural styles many Louisiana plantations defy classification.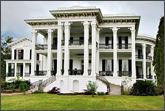 The best example of this is the majestic Nottoway Plantation, the largest plantation home in the South. Located in White Castle, Louisiana, on the Mississippi River just south of Baton Rouge, the Nottoway Plantation home is 53,000 square feet and built in a fusion of the Greek Revival and Italianate styles. The 64-room, three-story palatial mansion is sometimes referred to as an "American castle". The home is a work of architectural art with hand-carved marble mantles, intricate plaster frieze work and many other grand and innovative features.

San Francisco Plantation, just forty miles upriver from New Orleans in Garyville, Louisiana, has been called the most opulent plantation on the Mississippi River. Although the house is antebellum in a chronological sense, it is certainly not typical of the period. Its style and coloration are totally distinctive and has been described as "Steamboat Gothic", since the house resembles the ornate and graceful superstructure of a Mississippi River steamboat. Today the San Francisco Plantation remains a major attraction in Louisiana and hosts the annual Frico Fest featuring Cajun music, Creole and Cajun food and local arts and crafts.

Poplar Grove Plantation, in Port Allen, Louisiana just outside Baton Rouge, is a Louisiana plantation home built as an Oriental inspired pavilion. Originally built in New Orleans for an international exposition before the Civil War, it was carried up the Mississippi River by barge to become the main house at Poplar Grove Plantation.

Oakley Plantation House is the finest surviving example of Louisiana's rare Anglo Tidewater Creole architecture. In 1821, the painter, John James Audubon, stayed at Oakley Plantation where he painted many of the wildlife paintings for which he is famous. Audubon's journal indicates that the house was an "opulent abode."

There are many smaller, less well known plantations in Louisiana that will not be on the itinerary of guided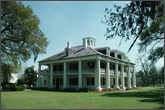 plantation tours although these smaller plantation homes are almost always on the National Registry of Historic Places. Many of these smaller plantation homes offer tours and are used today as bed and breakfasts that offer a quiet retreat and a taste of life from a bygone era. Just downriver from New Orleans in Saint Bernard Parish is Sebastopol Plantation. The plantation house is a quaint Creole Plantation cottage with high-ceilinged rooms and Old-World charm.

Other former plantation houses that are not usually part of the regular plantation tours itinerary but serve as bed and breakfasts are Poche Plantation in Convent, Louisiana, and the Myrtles Plantation in St. Francisville, just north of Baton Rouge. The Myrtles Plantation was visited by the famous painter John James Audubon and is considered one of the most haunted homes in America. Like many Louisiana plantations that may not be a regular part of organized plantation tours, the Myrtles Plantation offers bed and breakfasts style accommodations and has a full service restaurant.
Go to Louisiana Plantations, Plantation Tours and Historic Homes Tours

Louisiana Swamp Tours - SEE ALL

New Orleans is surrounded by water. Lakes, rivers, swamps and marsh. To get the real feel of what makes New Orleans so geographically isolated, you have to take either an aerial tour or a swamp tour. Either one will take your breath away as you begin to realize that New Orleans is a giant Venice, an island city, built on wetlands and held hostage to the forces of water all around it. For a visitor to New Orleans, the best way to see the environment that both besieges the city with the threat of inundation and blesses it with a bounty of seafood, waterfowl, lumber, oil and natural gas, is to take a Louisiana swamp tour.

The Primeval Beauty of the Louisiana Swamps
Cajun swamp tours in Louisiana take you into a primeval world more suited for prehistoric creatures than humans. The top predator, the alligator, is a reptile largely unchanged since the time of the dinosaurs. As your swamp tour guide takes you deeper into the hidden backwaters of Louisiana, you'll pass through ancient swamps, hidden lakes and meandering bayous where native Indians and French pirates once roamed.

Cajun swamp tours provide the visitor with an intimate connection with nature. From the smell of the swamp waters teeming with life and thick with vegetation to the sounds of water birds calling to their mates as they fly overhead, your visit into the Louisiana swamps brings you as close to nature as possible without leaving the comfort and safety of the tour boat. As your swamp tour guide takes you deeper into the Louisiana swamps, you can touch the prehistoric flora and fauna all around you. You'll pass by moss draped cypress trees, fascinating subtropical plant life and the animals that make the swamp their home. Swamp vegetation with its Spanish moss, protruding cypress knees and tropical palmettos creates landscapes unlike any other. In the spring, water hyacinths and native irises bring huge blooms of purples and blues to the swamp.

The swamps are home to a wide variety of wildlife. Louisiana alligators are the predominant predator in the swamps and your swamp tour guide will never hesitate to point out an alligator sunning on the bank of a bayou or swimming menacingly toward the tour boat. Louisiana swamps are home to giant snapping turtles that can bite off a man's finger like it was a pretzel stick and dozens of species of snakes, some very poisonous, so be sure to keep your hands out of the water when on your swamp tour.

Your Cajun swamp tour guide will point out large rookeries of snowy white egrets while cranes, herons, ibises, wood ducks and other water birds make the swamps seem like a giant aviary. Bald eagles, red tailed hawks and ospreys soar over the swamps while searching for their next meal. While slowly cruising through the swamps, you may see armadillos, raccoons, deer and possums and even nutrias, the beaver sized herbivores from South America that have become a favorite meal of Louisiana alligators. Some rarer inhabitants of Louisiana swamps include the red wolf, the black bear and the American panther. Elusive animals that are very weary of humans, wolves, bears and panthers usually remain out of view of swamp tours but may be sighted at any time!
Go to Louisiana Cajun Swamp Tours

Louisiana Alligators
There are over 1,000,000 alligators in Louisiana, and the population is growing. Alligators have been around for 200 million years and have been described as a "living fossil". Today, alligators can be found in swamps and marshes from the Carolinas to Texas. Louisiana's swamps and marshes are home to the world's largest population of alligators according to the 2005 Scholastic Book of World Records with Florida a close second. Your Cajun swamp tour guide may point out alligator nests and even little baby alligators still sporting their stripped camouflage. They look cute but will grow to be very large and dangerous predators.

Adult alligators typically grow to 12 or 13 feet and 800 pounds but can grow much larger. The largest alligator ever recorded was caught at Marsh Island, Louisiana. The monster gator was 19' 2" long and weighed nearly 2,000 pounds. Many Cajun swamp tour guides are also alligator hunters who supplement their incomes and stock their freezers during the annual alligator hunt. You may have heard that alligators don't regard humans as prey like crocodiles are known to do. Don't believe it. Alligators kill or injure humans every year in America. In Louisiana, however, encounters with alligators most often involve Cajuns and other outdoorsmen very familiar with Louisiana's swamps and wildlife. The deep understanding and close relationship that Louisiana's Cajuns have with the swamps, marshes and nature around them help keep disastrous encounters with large alligators to a minimum.

The Cajuns
The swamps are home to Louisiana's Cajuns. Most Cajuns are descendants of French Canadians driven out of the region known as Acadia by the British in the 1760s. France lost Canada and Acadia to the British in 1763 following France's loss of the 'French and Indian War'. The French in the Acadia region refused to swear allegiance to the British and were banished from their homes. Many arrived in Louisiana where they settled along Louisiana's many bayous to begin new lives as farmers and fishermen. In the following decades, they were joined by more settlers including Germans who brought sausage making (like andouilee and boudin) and the accordion into the Cajun culture. The new settlers 'frenchified' their names, learned French and became part of the growing Cajun culture. The Acadians in Louisiana eventually became known as 'Cajuns' and their new home in Louisiana became known as Acadiana.

Today the Cajun culture extends across South Louisiana from just west of New Orleans to the Texas border. Their unique cuisine became famous around the country in the 1980s as America discovered Cajun food and Cajun chef Paul Prudhomme became America's hottest chef with his Cajun style blackened redfish. Cajun music with its two step beat, fast accordion and fiddle playing and French lyrics has been around for centuries and has been long known as a unique genre of American country music.

In modern times, new roads and bridges, television and radio and an aggressive (sometimes cruel) movement in the early 20th century to ban the speaking of French by Cajun schoolchildren in public schools have all greatly contributed to the reduction of native French speakers in Louisiana. Today, only an estimated 250,000 of the 1.5 million Cajuns in Louisiana still speak French but all Cajuns still share their love of life and of Louisiana's swamps, marshes and bayous.

Swamp Tours near New Orleans
You don't have to go far from your French Quarter hotel room to reach the swamp tours. Some of the best swamp tours are less than an hour away from New Orleans. Often reached by guided bus tours departing from the French Quarter or downtown New Orleans, swamp tours in the New Orleans area are entertaining, educational and lots of fun for the entire family. Many swamp tours are close enough to New Orleans to be enjoyed in a morning or afternoon, leaving the rest of your day for more sightseeing in the Big Easy.

The Barataria Swamp tours are the closest to New Orleans. The wetlands rich region known as Barataria is just across the Mississippi River from New Orleans. The small town of Jean Lafitte, named for Louisiana's most famous pirate who made Barataria his home, is about 40 minutes from the French Quarter and is the gateway to one of Louisiana's most beautiful wetlands. Swamp tours in Jean Lafitte often take visitors through the Jean Lafitte National Historical Park's Barataria Preserve. Part of the National Park system, the Barataria Preserve's 23,000 acres include bayous, swamps, marshes, moss draped cypress trees, alligators and over 300 species of birds. It contains some of the most pristine wetlands habitat in the country.

Once you're across the Mississippi River from New Orleans, on the WestBank as its affectionately known by locals, there are several towns that are centers for swamp tours and just 30 to 45 minutes from downtown New Orleans. The small towns of Barataria, Lafitte, Crown Point, Westwego, Des Allemands and Houma all have swamp tours that are guided by locals with an intimate knowledge of the swamps and wildlife.

Swamp tours on the Westbank, just south of New Orleans (excuse our confusing geography) are often guided by authentic Cajun guides with thick Cajun French accents. The further west and south you go from New Orleans, the deeper you go into Cajun country, Acadiana, and the thicker the Cajun accents of the swamp guides. Because it was the Cajuns who started and still dominate the swamp tour business in Louisiana, swamp tours in Louisiana are often referred to as Cajun Swamp Tours!

The Honey Island Swamp is less than an hour from downtown New Orleans. Not a true Cajun swamp but still one of the closest to New Orleans, the Honey Island Swamp is the perfect swamp for a convenient trip into Louisiana's wetlands. Just east of the town of Slidell, the 250 square mile Honey Island Swamp is a nearly pristine wilderness near the mouth of the Pearl River and home to several swamp tours.

The Honey Island Swamp is part of the Pearl River ecosystem and is one of the least altered river swamps in the United States. About 70,000 acres of the Honey Island Swamp is a permanently protected wildlife area owned by the Nature Conservancy. Due to its beauty and proximity to New Orleans, Honey Island Swamp tours are very popular with visitors to the city.

The dense swamp is also home to the legendary Honey Island Swamp monster, a Southern cousin to Bigfoot, that many locals take seriously. But don't worry, swamp tours in the Honey Island swamps are taken during the day and the Honey Island Swamp monster has only been seen at night, so far!

Swamp Tours Deep in Cajun Country
In addition to your visit to New Orleans, consider spending a day with the Cajuns. The largest swamps and most beautiful cypress lined lakes in the entire country are deep in Cajun country. Cajun towns that used to take days to reach by boat from New Orleans are now only one and a half to two hours away by car. The ride will take you to small Cajun towns where 19th century homes and 300 year old oak trees are commonplace. Cajun cuisine rules here and just about any mom and pop restaurant will offer great gumbo and fresh seafood as regular menu items. The food alone is worth the ride. The swamp guides here will all be authentic Cajuns, many of whom, still speak French and live on a bayou where you can catch dinner in your front yard. There are swamps and swamp tours all over South Louisiana, particularly in Cajun Acadiana. These are the two of the largest swamp systems within a two hour drive of New Orleans that offer true Cajun Swamp Tours.

The Atchafalaya Swamp
The granddaddy of Louisiana swamps is the Atchafalaya Swamp, the largest swamp in the United States. Part of the 3,000 square mile Atchafalaya River Basin that includes swamps, marshes and bayous, the Atchafalaya Swamp cuts through South Louisiana between the cities of Baton Rouge and Lafayette, the capital of Cajun Louisiana. The I-10 between Baton Rouge and Lafayette goes right over the swamp and gives some of the most spectacular views of the state's wetlands.

The Atchafalaya Swamp is huge and sparsely inhabited but Cajun swamp guides know it very well. Besides having a large alligator population, the Atchafalaya Swamp is home to one of the largest populations of black bears in the state. Even today, many Cajuns make their living in this swamp hunting and trapping alligators and crawfish. Towns that offer Cajun swamp tours of the Atchafalaya Swamp are Breaux Bridge off I-10 to the north side of the swamp and Morgan City off Highway 90 at the south side of the swamp.

The Lake Verret Swamps
Lake Verret is perhaps the most beautiful lake in Louisiana. Lake Verret is about an hour and a half drive west of New Orleans. It's the jump off point for swamp tours in perhaps the most beautiful swamp system in all of Louisiana. The lake is surrounded by moss draped cypress trees along its shoreline and is absolutely gorgeous. The few structures on the shoreline are all built on stilts or wooden pilings that create a unique Cajun charm.

Lake Verett is deep in Cajun country, on the west bank of the Mississippi River between the Atchafalaya River Basin and Bayou LaFourche. A chain of lakes and bayous leads south from Lake Verret all the way to the Gulf of Mexico and fishing for largemouth bass, bluegill, bream and catfish is some of the best anywhere! This area is a Cajun Paradise. It's where the Cajun, Troy Landry on the History Channel's 'Swamp People' hunts alligators. The closest towns have names like Napoleonville, Paincourtville and Plattenville. They sit among the sugar cane fields along Bayou LaFourche but the Cajun town of Pierre Part is in the swamps.

Beers and Margaritas on Lake Verett
After your Lake Verett swamp tour and before you head back to the hectic tourist scene in New Orleans, take an hour to have a drink with the Cajuns in Pierre Part. Head down Shell Beach Road in Pierre Part to the shore of Lake Verett. There you'll find Chilly Willy's, the ultimate Cajun bar. Suspended on wooden pilings over the edge of Lake Verett, Chilly Willy's has the perfect view of tranquility. All you see for miles is blue water and green trees. Having a cold beer on the wooden deck, under the cypress trees with Lake Verett under your feet is a match for a Margarita on the world's best beach. It's the perfect union of human ingenuity and nature's beauty. I think hear Jimmy Buffet playing.

The Swamp Guides and their Boats
Swamp tour guides are knowledgeable professionals. Many are U.S.C.G. licensed captains and have degrees in subjects from botany to oceanography. They all share an appreciation and respect for Louisiana's wetlands and wildlife and have years of experience navigating through Louisiana's swamps. Swamp tour guides will share stories and legends of the swamps that date back hundreds of years. You'll find Louisiana swamp tour guides in general and Cajun swamp tour guides in particular to be very friendly with a great sense of humor. Cajuns are great storytellers and you may hear a humorous Cajun story or two along the way.

Flat bottom skiffs and airboats are the most common watercraft used for Louisiana swamp tours. The Cajun style skiffs hold 12 to 24 passengers and offer a slower more relaxed tour of the swamps. They are often covered and with cushioned seats that provide maximum comfort for the passengers. Their slower pace allows passengers to get much closer to the wildlife and provide for a more intimate experience with the swamp.

Airboats are fast and loud but allow passengers to see more territory and provide an amusement park thrill. Airboats usually carry 6 to 12 passengers over large areas of swamp and marsh. They have the ability to pass over marsh grasses and go places that other boats cannot. For fast thrills in the swamp, consider an airboat swamp tour.
Go to Louisiana Cajun Swamp Tours
French Quarter Tours

French Quarter Walking Tours
There are many ways to tour New Orleans. New Orleans is a diverse city with miles of historic districts and dozens of tourist attractions. However, every grand tour of New Orleans begins with tours of the French Quarter. Only 12 blocks long by about eight blocks wide, the New Orleans French Quarter is best seen with walking tours. Walking tours of the French Quarter often include entry into the 18th and 19th century architectural and historic treasures that comprise the homes and businesses of the French Quarter. A highlight of French Quarter walking tours are the French Quarter patios, the private garden retreats of French Quarter residents for centuries.
Go to New Orleans and French Quarter Walking Tours

French Quarter Carriage Tours
French Quarter carriage tours give visitors a unique perspective of the French Quarter. In addition to experiencing transportation as it existed in colonial New Orleans, French Quarter carriage tours offer a relaxing, personal tour with points of interest high lighted by your own personal tour guide. Most French Quarter carriage tours begin on Decatur Street in front of Jackson Square. The carriages are pulled by mules who can better handle the heat and humidity of New Orleans than horses. There are so many tours, attractions and historic neighborhoods in New Orleans that visitors often do not take the time to slow down and relax. A carriage tour of the French Quarter gives visitors a chance to relax while experiencing the sights, sounds and old world ambience of the historic French Quarter in a quaint mule drawn carriage. Friendly and informative carriage tour guides will take you back in time to another era as they escort you past New Orleans' famous French Quarter landmarks including iron-laced balconies, famous restaurants, art galleries and historic homes.
Go to French Quarter Carriage Tours

New Orleans Bicycle Tours
Bicycle tours will take you all around New Orleans but they're also a great way to tour the French Quarter. Bicycle tours are a great way to see a lot of sights in the French Quarter, up close, and in a short amount of time. Bicycle tours in New Orleans often offer tours of the city far beyond the French Quarter. Tree shaded boulevards like Esplanade Avenue and neighboring historic districts like the Faubourg Marigny, Treme and Bywater are often included in the bicycle tours. Popular bicycle tours of New Orleans will also take you to the historic garden District and City Park, one of the largest urban parks in America and home to some of the oldest live oaks in the world.
Go to New Orleans and French Quarter Bicycle Tours

The French Quarter
The French Quarter or the Vieux Carré ("Old Square" in French) is the oldest neighborhood in New Orleans. It's where the French explorer, Jean-Baptiste Le Moyne de Bienville, founded New Orleans (La Nouvelle Orléans in French) on the banks of the Mississippi River in 1718. Today, the French Quarter contains the oldest buildings in the entire Mississippi River valley including Ursuline Convent completed in 1752 and Lafitte's Blacksmith Shop, built in 1722 and the oldest continually occupied bar in the United States. The entire French Quarter is a National Historic Landmark.

The French Quarter, although settled by the French as New Orleans first neighborhood, was built largely by the Spanish who occupied New Orleans from 1763 to 1800 when Louisiana was transferred back to France. As your French Quarter tour guide will explain, fires destroyed almost all the original French structures which were largely made of wood. Old Ursuline Convent and Lafitte's Blacksmith Shop are the best known French built buildings to survive the fires. The Spanish rebuilt the French Quarter with brick and stucco walls and slate roofs that resisted fire. The Spanish also added the elaborately decorated wrought iron balconies and galleries that give the French Quarter its signature look as well as the hidden but lovely patios.

The center of the French Quarter, and the heart of New Orleans, is Jackson Square. Jackson Square is the ideal place to begin any tour of the French Quarter, or any tour of New Orleans. Jackson Square is the only European style, symmetrically designed city center in the United States. The centerpiece of Jackson Square is Saint Louis Cathedral. Saint Louis Cathedral is flanked to the left and right sides by twin 18th century buildings, the Cabildo and the Presbytere. On either side of Jackson Square are the twin block long Pontalba buildings, containing the oldest apartments in America. The top of the Mississippi River levee that borders the fourth side of Jackson Square, offers a spectacular view of one of the most beautiful city centers in America. The beautifully proportioned old buildings, oaks trees, horse carriages and the decorative wrought iron fence surrounding the square add a romantic atmosphere to the experience. At the center of Jackson Square is the statue of General Andrew Jackson, the hero of the Battle of New Orleans and seventh president of the United States.

Begin you leave Jackson Square and tour the rest of the French Quarter, have coffee and beignets at the Café du Monde. Since 1862, locals and tourists alike have enjoyed the best French doughnuts and coffee, and best seats in the city at the Café du Monde. After leaving the Café du Monde, cross over the levee behind you and take in the magnificent view of the Mississippi River and the twin bridges, the Crescent City Connection. A mile wide at New Orleans, the Mississippi River makes a great bend just below the French Quarter that lends New Orleans the nickname, the Crescent City.

Any tours of the French Quarter should include the French Market, the oldest open-air market in America. For hundreds of years, the French Market served as the center for distribution of farm goods throughout New Orleans. As recently as the 1960s, local grocers shopped the French Market for fresh produce for their customers. Today, it serves as a retail produce market and high end flea market with lots of souvenirs and arts and crafts for tourists. The French Market still has an air of history and delights the senses.

French Quarter tours will take you down two of the most famous streets in the French Quarter, Bourbon Street and Royal Street. Running parallel through the French Quarter, the two streets are only one block apart but represent two completely different faces of the Quarter. Everyone is familiar with Bourbon Street, the most famous party street in America. The bars and live music clubs on Bourbon Street have long histories. Some like the Old Absinthe House and Jean Lafitte's Blacksmith Shop have been pouring drinks for customers for hundreds of years. Around the corner from Bourbon Street, your French Quarter tour will take you to Royal Street, the French Quarter's most elegant street. Home to some of the finest art galleries, boutiques and antique shops in New Orleans, Royal Street is polite and gentile compared to loud and raucous Bourbon Street.

Andrew Jackson
At the center of Jackson Square stands the statue of Andrew Jackson, the hero of the Battle of New Orleans. On January 8th, 1815, Andrew Jackson and his motley crew of US Army soldiers, volunteers from Kentucky, Tennessee and Mississippi, local militia including French Creoles and free blacks as well as privateers led by the pirate Jean Lafitte, defeated an invading army of 11,000 British troops. The battle took place in Chalmette, Louisiana, just five miles downriver from the French Quarter. The British troops were the best in the world and the Americans were the underdogs. General Jackson rallied his army to do the impossible. They handily defeated the invading British army and kept New Orleans and all of the newly acquired Louisiana Purchase in American hands. The American victory at the Battle of New Orleans was of such importance to our young nation that it propelled Andrew Jackson into the White House as the seventh president of the US, got his face on the twenty dollar bill and a great looking statue in the center of New Orleans.

French Quarter Attractions
French Quarter tours hosted by the most knowledgeable tour guides will only take you so far in your exploration and enjoyment of the French Quarter. Besides eating at the French Quarter's famous restaurants and shopping at the many art galleries, boutiques and antique shops that line French Quarter streets, there are many attractions and historical sites in the French Quarter that will entertain the entire family. The most famous of the French Quarter attractions is the Aquarium of the Americas on the Mississippi River at the French Quarter. Owned and operated by the world famous Audubon Institute, the Aquarium of the Americas displays aquatic life from North and South America including the famous white alligators found in the Louisiana swamps. Adjacent to the Aquarium of the Americas is the IMAX theater that will thrill the entire family with its unique visual experience. The Audubon Insectarium is located in the old Customs House on Canal Street at the edge of the French Quarter. French Quarter museums include the Musée Conti Wax Museum, the Jazz Museum, the US Mint and the VooDoo museum.

Historic homes in the French Quarter are often open for tours. Some of these include the Beauregard Keyes House on Chartres Street, the Hermann Grima House on Saint Louis Street and the 1850 House, one of the old apartments of the Pontalba Buildings surrounding Jackson Square. On Esplanade Avenue, at the edge of the French Quarter is the New Orleans home of the famous French painter, Edgar Degas. It is the only former home or studio of Degas open to the public.
Go to New Orleans and French Quarter Walking, Bicycle and Carriage Tours

New Orleans Cemetery Tours, Haunted and Ghost Tours and VooDoo Tours
SEE ALL

New Orleans is considered by many to be the most haunted city in America. The most popular haunted or ghost tours of New Orleans are actually taken during the day. They are the tours of the famous New Orleans above ground cemeteries. New Orleans cemeteries are built above ground because of New Orleans' high water table. You only have to dig down a couple of feet in New Orleans to reach water and as everyone knows, coffins float. Because of the high water table, New Orleans residents have always had to bury their dead above ground. New Orleans cemetery tours will take you through the raised "Cities of the Dead" with elaborate, architecturally rich tombs as well as tombs that clearly show hundreds of years of slow, haunting decay.

New Orleans Cemetery Tours
The most famous cemetery in New Orleans is Saint Louis Cemetery #1, the burial site of Marie Leveau, the VooDoo queen of New Orleans. Established in 1789, St. Louis Cemetery #1 is located just behind the French Quarter and is New Orleans' oldest and most historic cemetery. Usually combined with tours of the French Quarter, tours of St Louis Cemetery #1 are taken during the day where tourists can see the tomb of Marie Leveau, New Orleans most famous VooDoo Queen. Visitors to her tomb often mark the tomb with an 'X' to conjure help from the VooDoo queen for a wish or a curse! New Orleans most beautiful above ground cemeteries are near New Orleans City Park. The grand Metairie Cemetery has huge marble tombs that are works of architectural art and contain generations of the dead from New Orleans families. Saint Patrick Cemetery on Canal Boulevard near City Park and Saint Louis Cemetery #2 in the New Orleans Garden District are also large "Cities of the Dead" with magnificent, architecturally significant tombs.

New Orleans VooDoo Tours
New Orleans tour guides leading tourists on cemetery tours often use Marie Laveau's tomb as a point of departure into the mysteries of Voodoo. Tourists learn about the ancient West African religion and about VooDoo in New Orleans today. New Orleans VooDoo tours explore the mystical world of Voodoo in New Orleans where tourists hear stories about VooDoo practitioners, visit real Voodoo altars and even an authentic New Orleans Voodoo shop in the French Quarter. New Orleans Voodoo tours blend together history, fact, fiction and folklore for an unforgettable experience.

New Orleans Haunted Tours
New Orleans haunted and ghost tours go from the French Quarter to the Garden District. Both old neighborhoods are full of real histories and embellished legends of ghosts based on tales from VooDoo to pirates to vampires that sparked the imagination of writers such as Anne Rice. New Orleans haunted and ghost tour guides are experts at telling stories of mysteries and strange events from New Orleans long history. Late night tours with guides in period costumes and conducted in centuries old neighborhoods and homes provide tourists with a chilling and fun filled adventure. Haunted or ghost tours of New Orleans, especially late night walking tours of the French Quarter, allow tourists to learn the history of New Orleans from a unique and fun perspective.
Go to New Orleans Cemetery Tours, Haunted Tours

Mississippi River Cruises - SEE ALL

Try an adventure on the Old Mississippi River with a special treat - a romantic riverboat cruise of the Port of New Orleans. Mississippi River cruises and Louisiana swamp tours are the best ways to see up close the intimate relationship between New Orleans and the water that surrounds and defines the city. As the last city on the largest river in North America, New Orleans owes its very existence to the Mississippi River.

Mississippi River cruises are often conducted on authentic Mississippi river paddle wheelers, much like the boats that carried Mark Twain, notorious gamblers and goods from New Orleans to all points north including cities and towns along the Ohio and Missouri Rivers, the major tributaries of the Mississippi. The melodic music from a steam powered calliope and the colorful, ornate designs of the river boat gives visitors a sense of the sights and sounds experienced by river voyagers in centuries past.

From New Orleans, a cruise on the Mississippi River offers a grand tour of the Port of New Orleans with magnificent views of the city from the river. With the Mississippi River a mile wide at New Orleans, views of New Orleans from a Mississippi River cruise boat are unlike any other. From the deck of your cruise boat, you can see a wide view of the city skyline as well as the docks and wharfs that make New Orleans the second largest port in the country. Tours of the Mississippi River from the deck of a river boat are considered by visitors to New Orleans as a high light of their visit to the Big Easy.
Go to Mississippi River Cruises and River Tours